What do SEOs keep silent about and many online store owners "forget"?
The fact that SEO optimisation of product cards is no less important than working on sections, categories, and articles. After all, it is the card that is the final stage of decision-making when a potential buyer either closes the page or adds a product to the basket. It should warm up the desire, answer questions, and remove objections, i.e. SELL.
In this article, we will tell you how to increase the conversion rate of a product page and optimise it from the SEO point of view. We will consider all the main elements and reveal the secrets of successful sellers.
Mandatory elements of a product card
A proper selling product card has 8 main elements.
Photo/video.
H1 level title (product name).
Price.
Characteristics of the product.
Description.
Social proof (reviews).
Upsell block.
A call to action.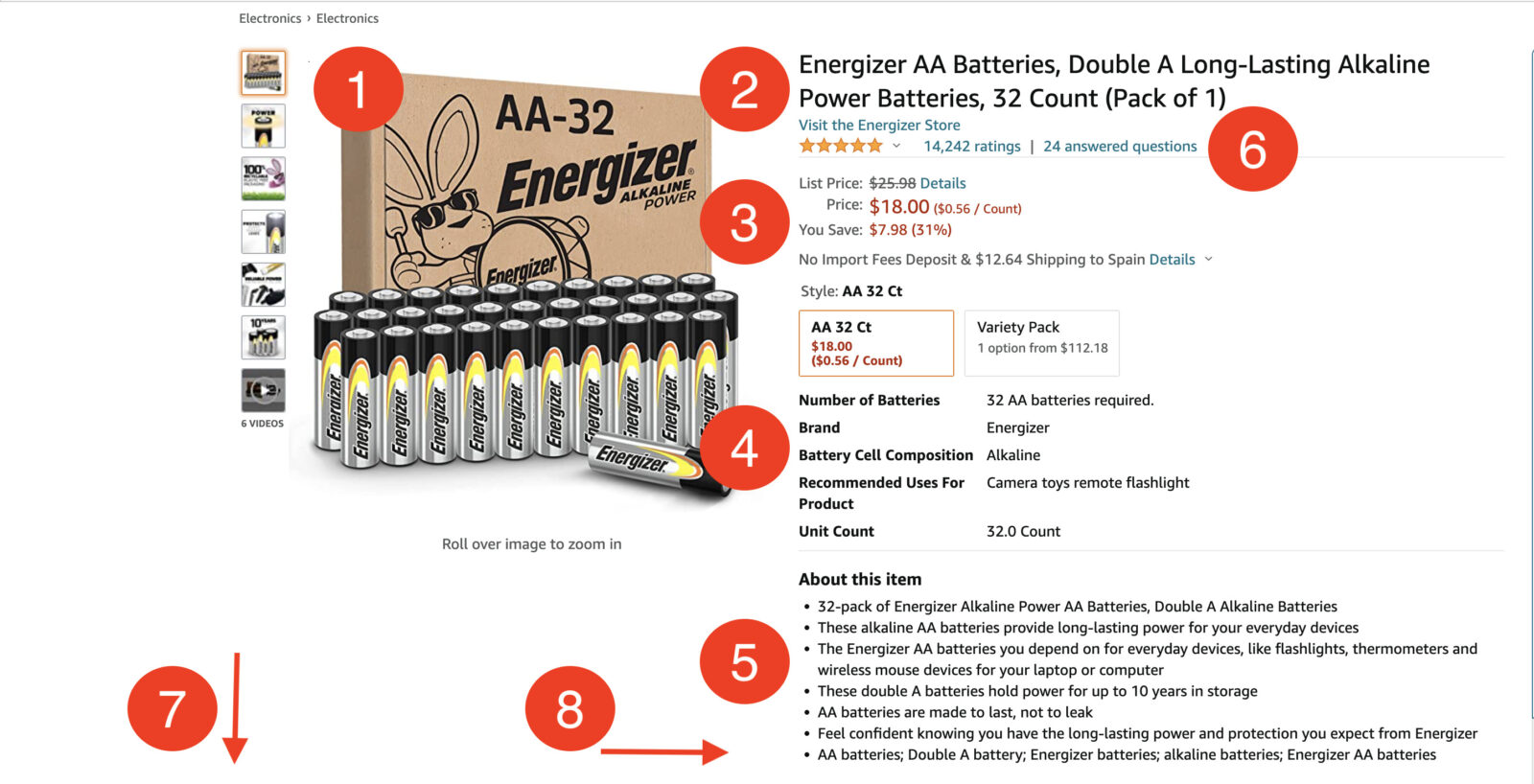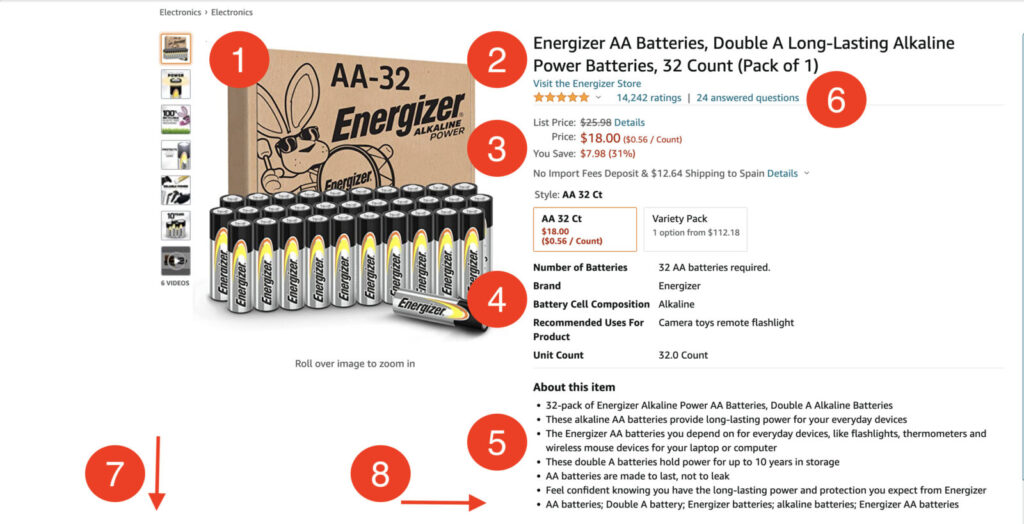 For a clear example, let's use a product page from Amazon, the most popular marketplace in the world.
Now let's take a look at how to create the right product card design for any niche.
1. Photos and videos
Of course, the photo should be of the highest quality and without watermarks. This block should be attractive and noticeable, ideally taking up 25-35% of the page width (or the entire width for the mobile version of the site).
For images to be ranked in search engines, don't forget to add the Alt attribute (alternative text describing the image) to them.
2. H1 level heading (product name)
A good headline should contain a relevant keyword, i.e. a query that a potential buyer uses to search for the product they are looking for. For example: "facial razor", as well as clarifying details: "men's", "electric", "brand XXX, model YYY".
At the same time, it is not advisable to use commercial keys in the title: the words "buy", "price", etc., i.e. those that do not describe the product.
Search engines and platforms often change their requirements for the size of the title, but the optimal length for Google is 60 characters.
3. Price
Every experienced online store owner knows that you can't just name a price. It also needs to be sold (i.e., justified). A potential customer always has doubts: from "Why is it so expensive?" to "It's suspiciously cheap!".
Your arsenal includes discounts, promotions, and special offers, as well as various bonuses and gifts (to argue why it costs so much).
Important! Specify the price only in local currency. If you need a preliminary calculation to quote it, write a "fork": from which to which.
4. Features
These are all technical parameters that can be presented in numbers (size, weight), as well as the country of manufacture, configuration (number of pieces), age of the consumer, material, colour, article.
The characteristics should be short but concise. Without "lyrical" digressions and loud adjectives. It is ideal to present them in the form of a table or list. For the block name, use the H2 heading.
5. Description.
The description block is the second most important and informative after graphic content (photos/videos). Here you can praise the product to the fullest. But don't forget that for SEO, it is important that the text is unique and filled with keywords. Therefore, it makes sense to entrust the filling of product cards to an experienced copywriter who understands such nuances.
Life hack. Use the phrase "in stock" to get additional traffic.
The description should perform the function of a sales manager, i.e. point out the benefits of the product and show it in a favourable light. To do this, you should answer the following questions:
what problems my product will solve for the target audience;
how to use it (directly and indirectly);
how easy it is to use, whether it is necessary to buy something additional;
how to choose the right option, etc.
Write about what is important to the customer. For example, you offer thermal underwear. And tell us in detail about the manufacturer, composition, and size selection. Will this description sell? No, it won't. Because it is much more important for the buyer to know WILL THIS KIT KEEP THEM WARM AT -30° AT A SKI RESORT?
6. Social evidence (testimonials)
On the one hand, it is clear that reviews are a great sales tool. But on the other hand, the question arises: what to do if none of your customers have left their opinion yet? There are several options:
Encourage their receipt (give something valuable for a review and simplify the authorisation procedure).
Order feedback from a copywriter or write it yourself.
It is also useful to introduce a graphical rating: stars or points. However, don't give up on text, because it is unique content that search engines love so much. It also has a positive effect on SEO promotion.
7. Additional sales unit
Below the main items, you can also place recommended/complementary/related products with links to their cards (in SEO terms, this is called linking).
Alternatively, you can also advertise the top 5 best-selling items in your online store or alternative products from the same category. The idea is that the visitor should be able to compare or buy more without leaving the page.
8. Call to action or Call to Action
In our case, it is the "buy in one click" and/or "add to cart" buttons. Buttons should be noticeable and accentuated. You can also offer to add to your favourites/ wish list.
However, don't give the customer too many options – too many choices can confuse and put them off. The path to the final goal (purchase) should be as simple and clear as possible
Design of product cards for an online store
Another interesting and sometimes controversial point: what should a page look like from a design perspective, rather than SEO or marketing? Is it worth being creative or is it better to stick to certain standards?
This question is answered by the field of UX (user experience) – the study of user behaviour and experience.
According to UX canons, it is better to place product images and other important elements at the top left, as the attention of the page visitor starts from this point and moves along the trajectory of the letter F. But buttons should be placed at the bottom right.
In other words, the design of product cards may well be template-based, "like everyone else's", but decorated in the colour scheme of your brand.
By the way, everything is not so simple with colours. For example, there are good and bad colours for Call to Action buttons. Below you can see the 3 most popular ones that are guaranteed to work.


But what if you want a blue button? Or a black one. Will they "sell"? The answer can only be given after testing the proposed options.
Conclusion. Creating, optimising, and designing product cards for online stores is far from being as simple and easy as it might seem at first glance. In order for the page to work for sales, you should write the right texts, understand the basics of promotion, marketing, psychology, UX, and colour perception.
Therefore, if you own an online business or are just planning to create one, we advise you not to skimp on specialists. And we remind you that the Nexus team is always ready to help you with such issues.