The Shopify platform promises us "ideas for €1 per month "* and a FAST and EASY business launch. The history of the project began in 2004 and grew from a snowboard shop to one of the most famous websites in the world with sales of over $4.6 billion (as of 2022).
In this article, we explain how Shopify actually works and whether you (as a seller) should pay attention to this e-commerce tool.
**Information from the main page of the website.
What is Shopify?
Some people call it "software", others call it an "e-commerce platform", and still others call it a "website builder". We are of the opinion that Shopify is a great tool for online entrepreneurs that allows them to solve all the everyday issues: from creating a store (without the help of a designer and developer) to logistics and marketing (without a targeting and PPC specialist).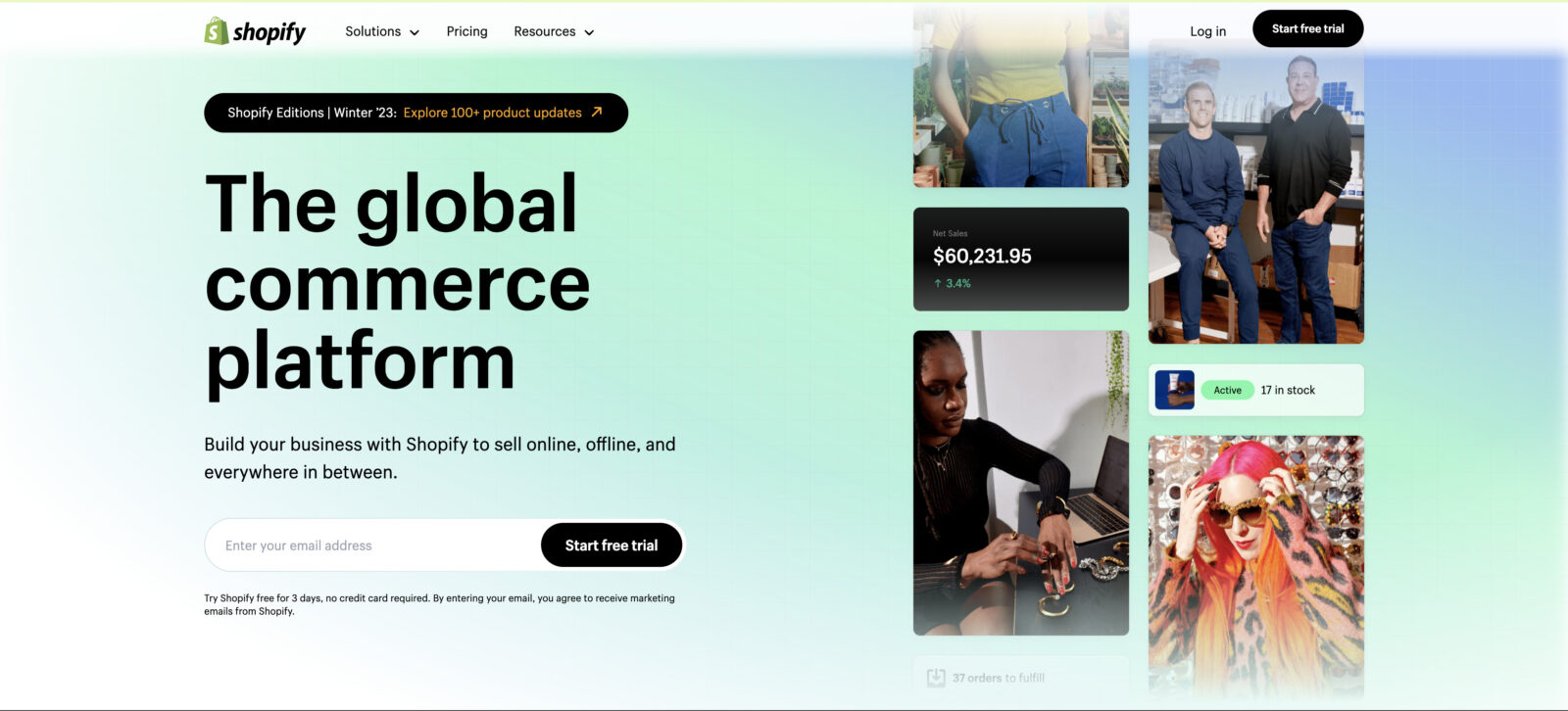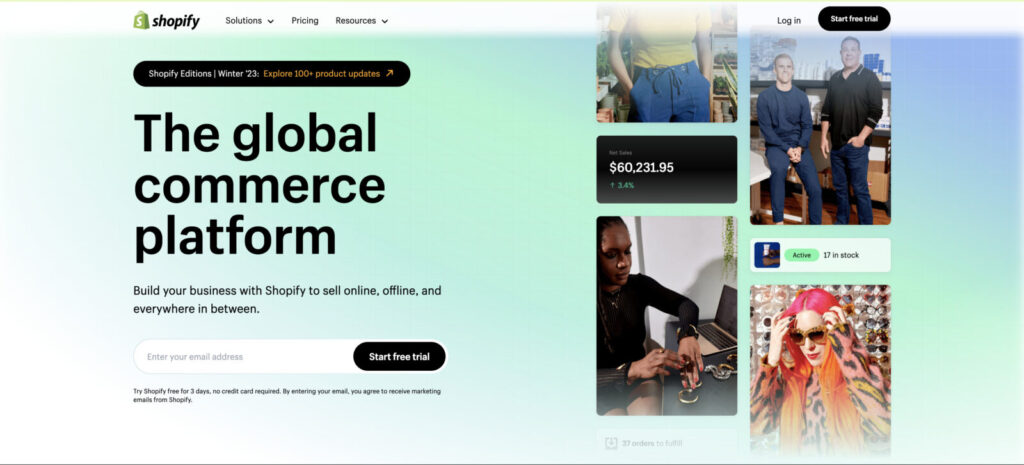 "What makes this platform different from hundreds of other online website builders?" you may ask. It is distinguished by its functionality, features, and popularity (more than a million users according to the homepage).
Having an account on the platform, you can not only create a full-fledged online store, but also:
listings for global marketplaces: Amazon, Ebay, or Etsy;
manage logistics and stocks;
accept payments;
set up Google Ads/Google Shopping/Facebook advertising;
create catalogues in social networks;
use 50+ sales channels.
Simply put, the peculiarity of this e-commerce tool is that you manage everything from a single account. You don't need, for example, to keep a table of inventory balances on your computer, go to Google Ads to set up ads, or open a payment program to check your balance. You can make changes to the product description or add a new one right away on Amazon, Instagram, and dozens of other channels of your presence. And that's not to mention how much you can save on various business software.
How much does it cost to use Shopify
The basic plan will cost you only 29 €/month. This is a fee for using the tools, domain, hosting, etc.
Separately, the system charges 2.1% + 0.30 € commission for each purchase. The higher the tariff, the lower this percentage is.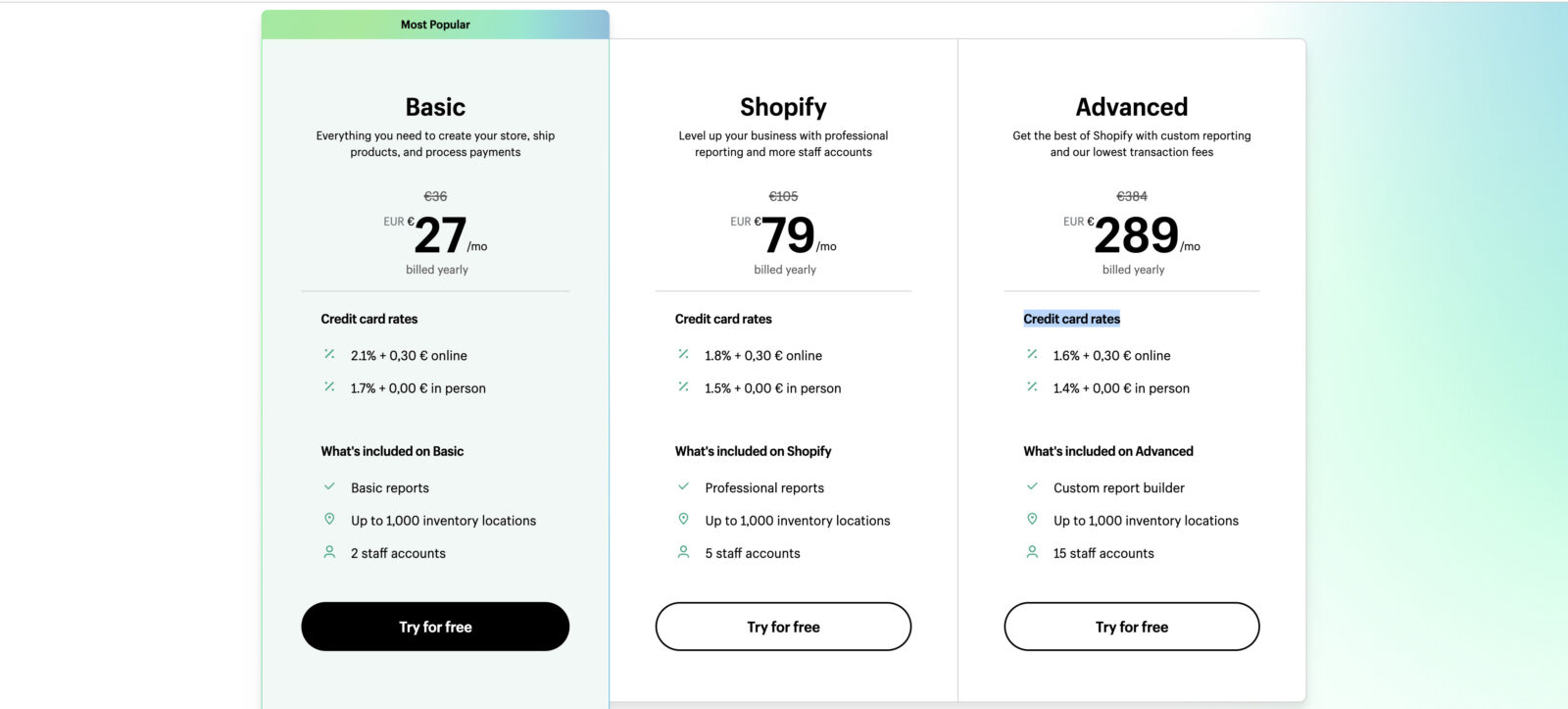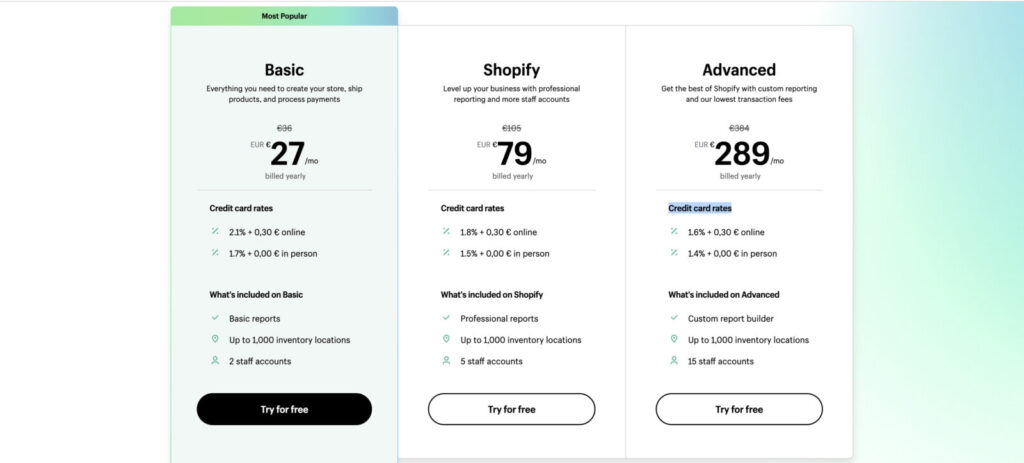 As you can see, the only fundamental difference between the packages is the number of accounts for staff and the types of reports (from the standard basic one to a customisable designer).The fact is that the platform earns money not only on tariff plans. A huge part of their profit is provided by the app store, where you can find the necessary tools for your online store for $5-10.
And what about the promised "implementation of ideas for €1 per month"?
Each new user gets access to the Starter plan for 3 months at a cost of €1 per month. This period will be enough time to figure out how to sell on Shopify, test the demand for your products, and research the needs of your target audience.
Does Shopify have its own fulfilment centre?
Unlike Amazon, which relieves its sellers of all customer service obligations and provides delivery/warehousing (fulfilment model), Shopify cannot boast of such a service.
However, this does not mean that the platform does not help users in any way. In particular, you can count on good discounts of 5-20% on the services of postal services (DHL, UPS and USPS, etc.) using your Shopify account. Delivery can be organised worldwide, as the service has agreements and contracts with many foreign fulfilment centres.
How to sell on Shopify from Ukraine
You will not have any problems with how to register on Shopify from Ukraine. Since our country is present in the drop-down list. At about the 6th-7th registration question, you will be asked to choose a location where you will conduct business.


However, the system will immediately warn you that Shopify Payments are limited in Ukraine and there may be problems with payment processing or delays. Like other payment systems, the system is tied to PayPal and has a very limited list of countries in which it can work properly. This list is provided below.


At the same time, the platform provides a wide range of payment options (more than 100 aggregators and payment systems, including even cryptocurrency ones). The only problem is that most of them do not work with the Ukrainian financial system.
However, this doesn't mean that you won't be able to do business, or that you'll need to open an account with a foreign bank. This only entails very high transaction fees. For example, 2 Checkout, a payment aggregator accredited in Ukraine, charges about 4.5%.
Alternatively, you can use Fondy, a payment service that allows you to connect payments from Google/Apple Pay and foreign wallets.
Another option is Stripe (which has a fairly low commission, about 2.5% per transaction), which has recently been officially launched for Ukrainians.
As a result, we can say that Shopify Ukraine is a quite affordable and easy way to organise an e-commerce business.
What do you need at the start to start trading on Shopify?
The first and foremost thing is to choose a quality product. Unlike Etsy or Amazon, the platform does not require exclusivity, meaning that you can sell anything without having your own brand and without being a manufacturer.
The most popular products are from the following 5 categories:
Electronics.
Children's toys.
Clothing and footwear.
Home decor and accessories.
Goods for hobbies.
The next step is to create a high-quality product card. For this, you will need professional photos and good selling texts.
But the most important secret to successful sales is probably advertising. It is worth allocating the largest budget for it. In addition, experienced sellers advise not to promote themselves, but to entrust it to specialists. Although Shopify has quite clear tools for launching advertising campaigns (AC), the conversion rate can vary from 1 to 20%, depending on the selected settings and traffic acquisition channels.
Google Shopping is currently the best advertising tool, followed by context (search engine advertising), and targeting (running ads to Facebook and Instagram audiences).
Conclusion. Is the Shopify marketplace suitable for starting a business or scaling up?
We have many successful cases of launching a Shopify business from scratch, without any previous experience. On average, you can expect to break even in 3 months from the start date and then have a margin of 15-20% per month. Of course, it all depends on the demand for the product and the quality of advertising.
The best way to make money is to sell narrow niches and products for a specific target audience. For example, you can sell jumpsuits for small dogs or living room rugs with anime characters – that is, choose a low-competitive area.
In general, Shopify is suitable for both the first business and scaling up an existing one. With this platform, you get unlimited opportunities to sell in foreign markets and expand your customer base.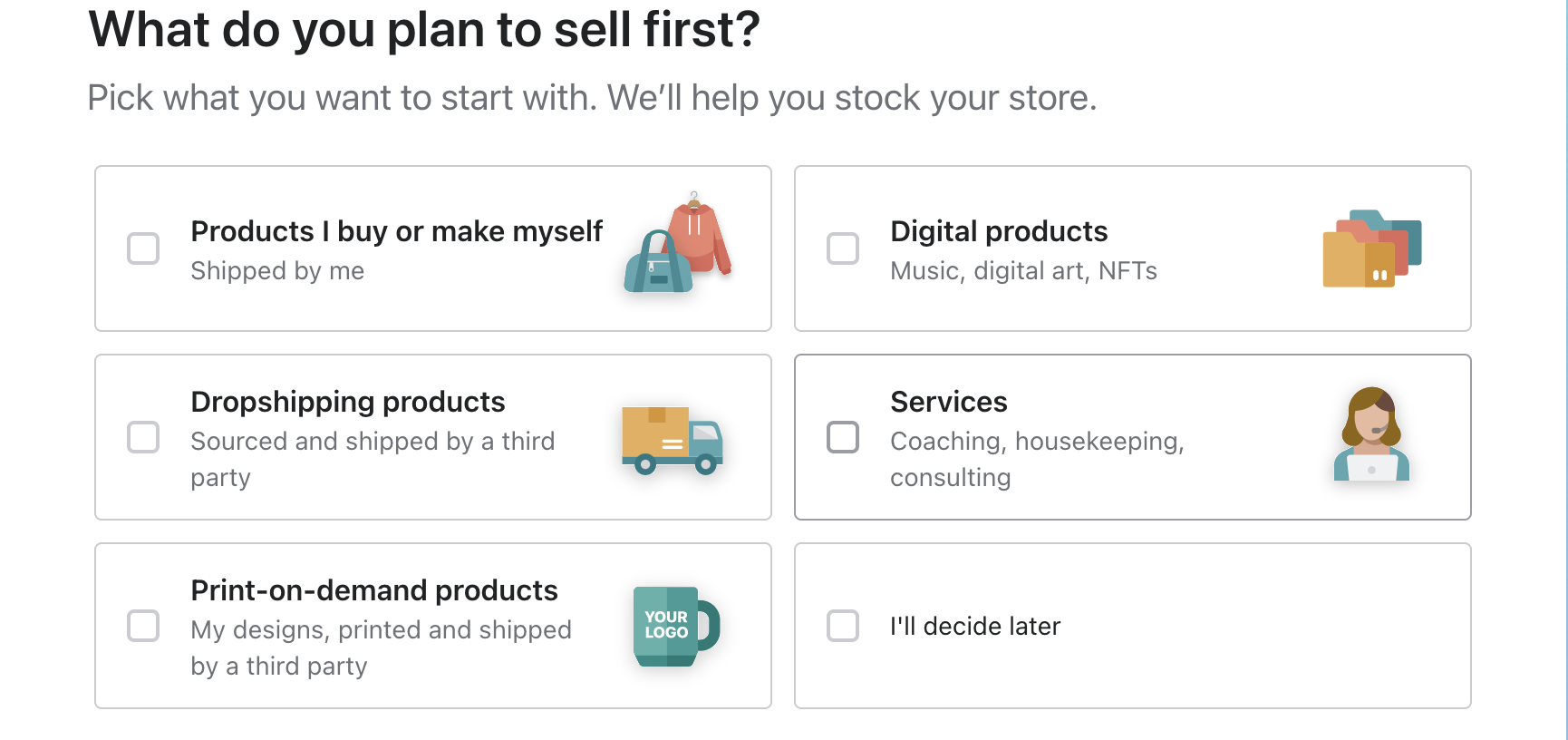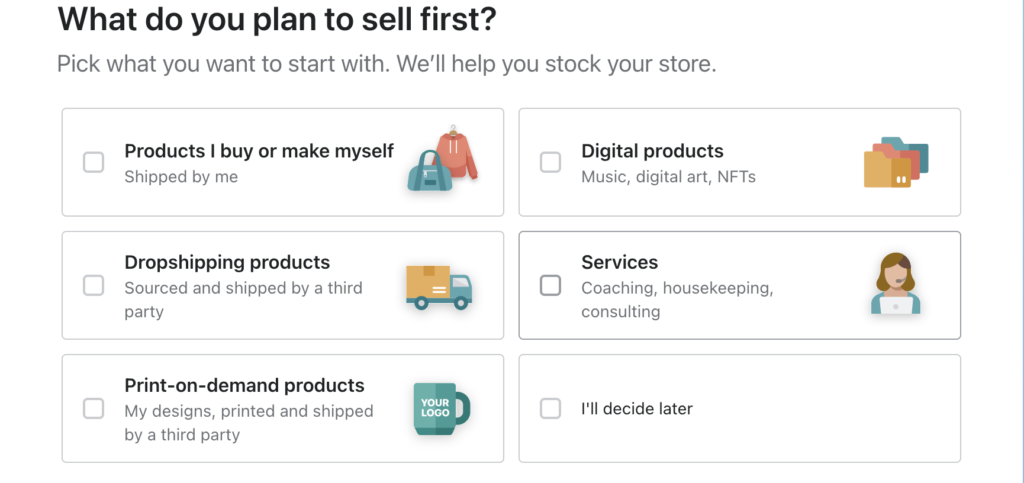 Moreover, Shopify allows you to trade on the dropshipping model (when you do not own the goods, but only look for a buyer. Then you pass the order to the manufacturer for processing and shipping, acting as an intermediary).
Please note! You can also offer your services on Shopify (from coaching/consulting to cleaning).
How can we help you?
We have been helping entrepreneurs enter foreign markets for more than 30 years, addressing issues of relocation, investment, asset protection, etc.
In the Shopify direction, you can count on the following range of services:
registering a company and obtaining a foreign bank account;
search for a product in demand;
niche and demand testing;
assistance with procurement/production, storage organisation;
creating an online store, social media pages and marketplace listings;
setting up payment acceptance, tax planning;
creating and running advertising campaigns, and much more.
We will be by your side from the first step to scaling and automating your business. Our team is ready to handle all legal, technical, and marketing issues that arise in the process. Tell us your wishes and we will create a step-by-step business plan for your request.